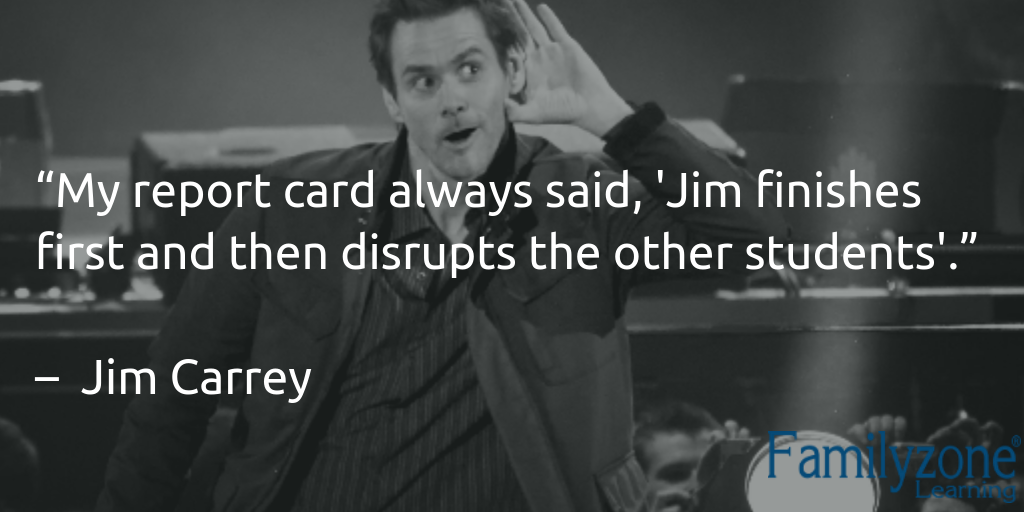 When watching the new Dumb & Dumber move it is hard to believe that the man playing Lloyd Christmas is regarded as one of the most intelligent had working actors in the business. Jim Carrey stared in some of the most iconic and funny movies of the last two decades. 'Ace Ventura: Pet Detective', 'Liar, Liar', 'The Truman Show' and 'Eternal Sunshine of the Spotless Mind' just to name a few.
From a difficult childhood to HollyWood star all with ADHD
He was born in Ontario, Canada and had a rather difficult childhood after his father lost his job and the family was forced to live in a van. He left school early at the age of 15 and stated working as a janitor to help support his family. Although he returned a few times he never finished school in the end helping this mother who suffered a chronic illness and working to put food on the table.
He rose steadily to fame doing stand up comedy and TV roles in sitcoms with his big Hollywood break coming in Ace Ventura: Pet Detective in 1994. After that there was no looking back.
In the case of Carrey the fact that he has ADHD did not seem to slow him down. In fact it may have contributed to his career as he often remembers being the class clown. People suffering from ADHD is regarded by some as very creative, innovative, adventurous something that seems a good fit for Carrey.
The Davis Attention Mastery™ program can help you regulate your energy and focus levels. Helping you toward being creative, innovative and adventurous.
The Davis Attention Mastery Program
Familyzone Learning provides the Davis Attention Mastery Program. The program will help both children and adults control their attention, energy level, and social interaction. This internationally researched innovative drug-free approach to ADD and ADHD is unique to South Africa. A client that is fluid in reading and comprehension can complete the Davis Attention Mastery Program by working a total of 48 hours over 8 days with Ronita. Unlike other programs the Davis Attention Mastery Program for ADD and ADHD has a set goals, set outcomes with a definitive start and end. No repeat weekly visits are necessary.

Original image courtesy of Wikipedia