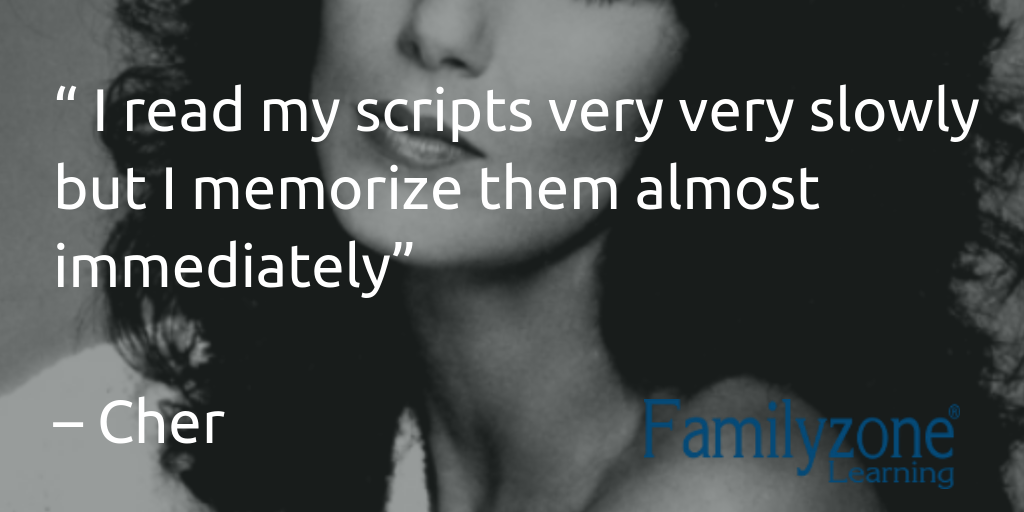 Do you sometimes wish you could "turn back time" because "no matter how hard I try" I will never "sell a couple bottles of doctor good". If you recognized those lyrics you are probably a fan of Cherilyn Sarkisian better know as Cher.
Accomplishments
Cher is the only artist to have a number one hit in each of the six decades between 1960 and 2010. She featured not only on the music charts but also has a number of TV and Film credits to her name.
Cher and Dyslexia
Cher tells how she struggles to read write and tell time. After years of struggling with dyslexia Cher left high school at age 16. She was unable to read. Yet through all this she preserved to become the respected entertainer we know today. Cher was only diagnosed dyslexic shortly after seeking help for her own child. They were diagnosed together as dyslexic. Like many dyslexics Cher relies heavily on her memory: "I read my scripts very very slowly but I memorize them almost immediately"
Familyzone Learning can help with dyslexia located in Gauteng South Africa read more here.
*Original image courtesy of Wikipedia modified by Familyzone Learning